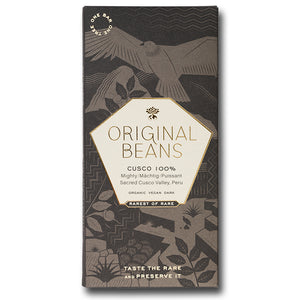 Original Beans
Cusco Chuncho, Peru 100%
Regular price
HK$68.00
HK$0.00
Unit price
per
Cusco Chuncho 100%
Mighty Dark Cacao, Sacred Cusco Valley, Peru

Tasting Notes
Notes of dried flowers and grass mark the absolute altitude of this cacao, a singular offering from the lands of the mighty condor, believed by the Incas to be powerful enough to fly to the heavens.

Origin and Conservation Efforts
Up in the heights of Machu Picchu grows one of Peru? most precious cacao varieties, the ?huncho? Many cacaos from Peru carry the label ?huncho?(much like Ecuador? ?rriba?, but most are modern hybrids that have spread throughout the region. We are just in time to preserve and promote the true Chuncho. Our conservation journey also led us to one of the Inca? sacred animals that requires immediate support for continued survival in the wild: the mighty condor.

Ingredients: 100% cacao.
*Certified Organic. Gluten-free. Vegan. May contain traces of almonds, nuts, peanuts, milk.
Store in a cool and dry place between 16 degree celsius and 18 degree celsius away from light.
---
Share this Product
---