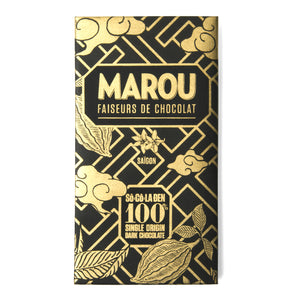 Marou Faiseurs de Chocolat
Viet Nam 100%
Regular price
HK$68.00
HK$0.00
Unit price
per
Making a great 100 % chocolate bar is the hardest thing in the world…
When we try cacao beans at the farm, once in a while, we come across cacao beans that are so mild and flagrant that we think "That's it: these beans don't need anything else!". It's this elating feeling that we want to give you with this intense bar made with a hand-picked selection of our finest Vietnamese cacao - and nothing else.
With no added sugar or any other additives our 100% bar offers deep, fresh flavours.
Ingredients: 100% cacao
製造一排極好的100%朱古力是在全世界最難的一件事….
當Marou在莊園試可可豆時,偶爾發現這些可可豆有藉柔和及解明的風味,那他們就想這可可豆就係不需要任何添加的一款。令人感到歡欣地,由他們親手揀選越南最優質可可豆,來為大家製這濃郁的朱古力。沒有加入糖及任何添加成份,這100%充滿層次及新鮮風味。
---
Share this Product
---