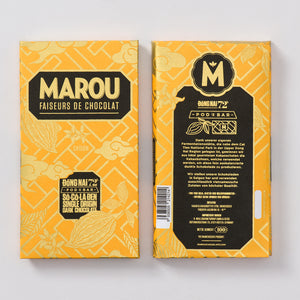 Marou Faiseurs de Chocolat
Dong Nai 72%
Regular price
HK$68.00
HK$0.00
Unit price
per
This chocolate is made with cocoa that is produced at MAROU's own cacao fermentation and drying station near Cat Tien Natural Park in Dong Nai province, making it a very rare 'pod-to-bar' chocolate. This chocolate is mild with surprising notes of spice.
A finely balanced dark chocolate with hints of spice coming from farms in the upper Dong Nai Province.
這款朱古力所使用的可可豆,是從MAROU位於同奈省Cat Tien國家公園鄰近的自設可可發酵及乾燥中心生產的。這個「Pod-to-Bar」朱古力細緻柔和中帶少許香料風味。
由越南同奈省的農莊所出產的可可豆,製成72%黑朱古力,細緻中帶少許香料風味。
Ingredients: Cocoa & cocoa butter (72% cocoa solids), cane sugar (28%)
Soy, gluten and dairy free, may contain traces of nuts.Store in a cool and dry place, between 16 degree Celsius and 18 degree Celsius away from light.
---
Share this Product
---